GOLDEN OPPORTUNITIES IN CHINA'S JEWELRY MARKET
GOLDEN OPPORTUNITIES IN CHINA'S JEWELRY MARKET
China's Jewelry Market : the jewelry market in China is a growing market in the country. The sector does not meet any standards known to our Western countries regarding design, trends, varieties, and raw materials, which is an opportunity to innovate in the market.
China is the second largest jewelry market after the United States with an estimated turnover of more than 80 billion dollars and accounting for a 40% share in the consumption of jewelry in the world.
A LOOK AT THE JEWELRY MARKET IN CHINA
The market in China can be divided into three categories:
Metal jewelry:This segment will group jewelry made from precious metals gold platinum and silver. And non-precious metals, made of copper and / or aluminum.
Precious stones:The gemstone segment is in general, used in decoration, inlaying the jewel itself. This segment is becoming more and more popular thanks to the care and aesthetics brought to the objects. The most known gemstones are diamond, crystal, ruby, sapphire, jade, pearl.
Others: This category of materials includes ivory, cooking, clay.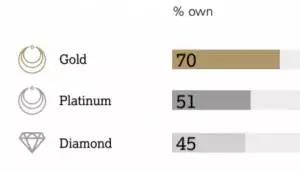 Most Chinese consumers have a preference for gold consumption in the market, accounting for 50% of sales. Gold has a strong symbolism in the country as it represents financial and spiritual protection. Gold is attracting strong demand, particularly due to its return on investment, it becomes an investment opportunity.
A CHANGE IN MARKET BEHAVIOR AND EXPECTATIONS
Jewelry represents an element of distinction for the Chinese consumer in the field of fashion but also belonging to a certain social class.
However, the market is undergoing major changes in terms of consumer expectations. New, more modern Chinese consumers seek to distinguish themselves from their peers and thus buy exclusive and individual products. The Chinese society considered as collectivist before, is therefore experiencing a significant change thanks to this new generation that encourages personal expression.
The necklace is the most popular accessory to consumers followed by rings and bracelets. As said before, precious stones benefit from these changing mentalities, a renewed popularity in the Chinese market, because of the many possibilities that can be realized when creating jewelry with these stones.
THE COMPETITIVE SPHERE OF INDUSTRY
Foreign brands are highly valued in the market. As jewelry is used in luxury consumer goods, local brands compete directly with international players.
In 2016, Lao Feng Xiang Co Ltd took the lead in Chinese jewelry, holding a 5% share. The company is followed by several other brands such as Shanghai Yuyuan, Chow Tai Fook, Tourist Mart, Chow Sang Sang and Luk Fook.
THE COPPLEX DISTRIBUTION NETWORK
Sales channels can be divided into several types:
1. jewelry shops,
2. chain stores,
3. supermarkets,
4. specialty stores.
The evolution of the market and its growth have also made it possible for e-commerce to take place in the sector. See this Great Article.
The online channel is not yet developed compared to other industries of the country that have already embraced it. Indeed, we can see a brake on the use of e-commerce for the purchase of jewelry because consumers prefer to touch the product. In addition, the problem of online shopping security is actually the biggest obstacle.
However, the online channel represents an opportunity on the market to stimulate sales because there is still a demand from consumers. It is only left to market companies to educate consumers to influence them to use this means. To stimulate the purchase by Internet the brands redouble their efforts and implement technological innovations in coherence with the needs of the company.
The Offline to Online strategy is a key success factor in the market, allowing it to meet the needs of different customer segments and to develop its reputation and brand image.
HOW TO MARKET YOUR JEWELRY BRAND IN CHINA?
Marketing your brand in China requires a careful understanding of the environment and the industry in which you are going to set up business. In a market increasingly saturated by brands, consumer expectations have changed. Keep in mind that your ability to differentiate yourself from your competitors and offer high added value to your brand will be key to your success.
MARKETING YOUR OFFER ON THE CROSS-BORDER E-COMMERCE PLATFORM
Online cross-border trading platforms is one of the most effective solutions to market your brand. The platforms allow foreign brands to sell directly to the final consumer without the need for a physical store on site.
Three players stand out in this market, Tmall Global JD Worldwide and WeChat Store.
Tmall
Tmall is the most important platform in China, offering a wide range of products. The disadvantage of Tmall Global is its registration process within the platform. In order to be able to market your products and register on the platform, Tmall applies an invitation policy. You must therefore be invited to join the platform or to apply to an accredited intermediary.
This procedure greatly complicates trade and commerce for foreign companies which in general turns to its competitors JD Worldwide.
JD
JD distinguishes itself from Tmall Global through the active global promotion of JD Worldwide (particularly in the United States and Australia) and the uniqueness of its logistics service. The platform has the point of not selling any counterfeit products which ensures a real trust with the consumers.
Wechat Store
WeChat stores are mini e-shops that offer your users simple and mobile access to your products with a convenient payment system since the application offers an electronic wallet.
Most brands are investing in Wechat E-Commerce at this moment. (further reading here and here)
The advantage offered by the application is to initially target social and mobile commerce, two dominant aspects in the lives of Chinese consumers. And on the other hand, you can link your official WeChat account to offer an optimal shopping experience.
THE IMPORTANCE OF DIGITAL IN YOUR STRATEGY OF IMPLANTATION
E-commerce becomes an important part of the daily life of Chinese people. In the sector, online purchases account for 20% of all sales. Online experience is a key factor in marketing your brand since it will allow your customer to interact with your brand and feel valued. But this will also be beneficial for you, since a positive return from it will allow you to shine and have a better reputation. The virtual is only a continuity of the customer experience in store. It is therefore essential to feed the shopping experience of individuals on the digital also. See importance of Digital for Luxury brand here.
We talked about the possibility of implanting you on the WeChat platform to market your products. Above all, WeChat is a social platform connecting the 800 million users to each other but also to the brands. To create a professional profile on WeChat you have to open what is called an official account. This account will allow you to relay information, content, promotional offers, all the marketing and communication tools necessary to the development of your brand on the territory.
The official account has the advantage of offering a quality customer service if you take the trouble to feed and animate your account. The consumer of online jewelry, as we have seen previously, remains a fearful and uncertain individual of the market. This account will allow you to reassure him, interact with him and offer him a better user experience.
GAIN VISIBILITY ON SEARCH ENGINES
Do not expect to find Google in China, at least, Google is present in the Middle Empire on you have a VPN . However, the search engine most used by us westerners does not make the majority in the country. Here you will be dealing with Baidu.
Baidu is the internet power of the country with a market share of 80% research, you have every interest to position yourself on it. The SEO on Baidu has some similarities with that of Google but it is also very different.
Adapting and optimizing your website in Mandarin will be a necessity if you want to succeed in your SEO strategy. Being hosted on a .CN domain is more than recommended if you want to increase your chances of visibility on the first pages.
Another aspect to initiate and the system PPC (Pay Per Click). In concrete terms, you pay Baidu to get you back in the results according to a list of selected keywords. The process of buying Chinese consumers includes upstream, many internet searches on the products they want to buy. Developing your online presence will only benefit you.
IN CHINA, GO DIGITAL !
Digital is becoming a major growth driver in the country. All industries are beginning to embrace this channel gradually and give birth to a new way to access the market for international brands. Your communication strategy on this digital medium will be the vehicle for your success in China. WeChat has become over the years the digital ecosystem of the country in its own right and on which it is useful to develop its presence to raise awareness of your brand, communicate and better know your customer.
If you have any questions relating to "Golden Opportunities in China's Jewelry Market", OPKO Finance team is ready to assist you. Contact us for any inquiry you have at + 86 187 177 31958 or email us at info@opkofinance.com and we will be back the soonest.