What are the pain points from foreign investor's when having those first hires?
Lack of transparency

A lack of understanding and language capabilities

A lack of communication

Spending more money on less quality

A lack of trust

A lack of loyalty
The most important hires you'll make are your first employees. So how do you spot a good one?
Here's what to look for in your first employees:
Generalist

No egos

Believers

Grit
How to find the right talent in China? Where would you look to find the right talent in China?
Use job search portals, like 51job.com, chinahr.com, zhaopin.com, chinajob.com, etc.

Linkedin

Social media platforms like WeChat

Recruiters and headhunters
Do your research – study salary guidelines in China to understand what are the average salary levels, understand titles and what they mean based on length of working experience and education level.
TIP: No talent search can begin until the roles and responsibilities of the job in question have been thoroughly laid out and everyone involved in the recruitment process has a comprehensive understanding of what's expected from a successful applicant.
How to pick the right talent in China?
Resumes are provided by candidates – take them with a pinch of salt and verify all content during the interview- consider even for senior management to have background checks conducted

Observe their demeanor during the interview – shy, brash, harsh, do they ask you a lot of questions (remember you may need to convince them to work for your company)

End an interview, even if it is after 10mins. if the applicant is not fit to the position.

Candidates must be screened for aptitude, attitude and language capabilities – particularly if you are looking for q bilingual or trilingual candidate (minimum Chinese and English language skills).

Aptitude – the most effective way to tackle this is to create a checklist. Note down the key skills that the right candidate must have, then tick them off as you review their application.

Attitude – Consider employing differing interview techniques in China to see how your candidate responds – testing is important, and this is one of your few chances to see their reactions in a 'live' situation and more importantly in a video conference meeting (frequently HR managers or investors are not going to be based full-time in China).
Sample questions to ask candidates – an Operation Manager
How big was the team you had last worked with? What are the difficulties you had to face? How did you manage them?

What in your terms is an ideal operations management team?

How do you solve a problem that arises? How do you act on it? Do you pause and think or act immediately?

What do you think is the skill set you need to possess to be successful?

Describe your management style or philosophy.

How was your involvement with each employee in the organization? Have you personally hired, trained and coached staff? Have you fired staff for erratic behavior? What steps did you follow to do that? How do you motivate your employees?

As an Operations Head, what sort of tasks were your handling daily?

How do you make decisions when it comes to staffing, warehousing, accounting, operating, sales?
LAST BUT NOT LEAST: Give them a project to complete (particularly for candidates in managerial roles) – for example, when you start in my organization what would be your action plan within the first 3-6 months? Create a presentation highlighting your action plans.
Tips on how to choose the final candidate
Always think about your

key objectives

for the next 3 years.

What needs doing?

Which milestones need to be achieved successfully?

Go into

final negotiations

with both candidates.Why? Because some candidates do change their minds last minute and start asking for certain extras. You wanna have a backup when what happens.

At the end of the day your

cost benefit ratio

will need to fit.
9 critical issues in Chinese labor and employment law
Can you hire in China without a legal presence?




No. 




Companies must have a local, legal corporate presence within the territory of China to engage employees.




Some Companies hire other types of workers in China without establishing a legal presence. This approach will give rise to its own issues.

Is a written employment contract required, and is an electronic version of the contract permissible?




Yes.




A written employment contract is required in China.




Chinese courts still prefer to see hard copies.

How difficult is it to terminate an employee in China?




Extremely difficult.




Chinese law is highly protective of employees.




Given the difficulties of termination, mutual termination agreements are common.

Is a fixed term employment contract permissible?




Yes. 




However, once an employee has worked for a consecutive period of no less than ten years or the employer has signed two fixed-term employment agreements with the employees, then the employer must execute an indefinite-term agreement with the employee.

Is an employee handbook required?




Not technically required, but strongly recommended.




A well-drafted and ''democratically'' implemented handbook (or a stand-alone policy) is almost always required to successful defend a labor dispute in China.

Does Chinese employment law differ from province to province?




Yes.




Even though China has only national employment law, the provinces and larger cities also have their own legislative powers.




Furthermore, the labor arbitration tribunals and courts of Beijing, Shanghai, Guangzhou and Shenzhen, the most influential cities in China, each have their own special rules and interpretations of employment laws.

How do employment matters impact transactions?




It depends.




There is no unified transfer-of-business law in China, there are no hard and fast rules that govern employee matters in transactions

Is a non-unionized foreign company affected by the local labor unions?




Yes.




Trade unions can influence a non-unionized workforce due to their dual roles representing the interests of both the state and labor.

Are there other hiring alternatives besides direct employment?




Yes.
Labor-dispatch

Part-time

Independent contractor

Employer-of-Record Services (otherwise know as PEO)
Explanation of the Employer-of-Record Services (PEO Service)
If you hire mainland Chinese employees that are residing in mainland China then they must pay personal income tax and social insurance to the various tax and labor bureau authorities.

If you hire foreign employees that are residing in China then they must be on a work permit, residence visa and pay personal income tax social insurance to the various tax and labor bureaus.

Why would you use an Employer-of-Record service?
Companies requiring to on-board local staff to handle ground operations (client meetings, sales support, supply management, etc.) but the company strategy does not require the setup of a company;

You need to test the Chinese market and hire local staff for early market research, marketing activities, and exploration;

Companies with an overseas-based contractor they wish to base in China;

Companies that intended to register an entity in China but want to hire staff in the interim period before formal establishment.
Disadvantages of using an Employer-of-Record service
The employee's sense of belonging will not be the best because the client has no legal entity in China

It might not be easy to hire employees because some of the employees are not willing to join the company under this employment method

The employment contract shall follow the HR service provider, so the client cannot tailor-make it

Based on Chinese law, the employment contract term cannot be lower than 1 year
Advantages of using an Employer-of-Record service
Fast market entry in China

Legal & HR team in China

Payroll Services in China

Employee Onboarding in China

Stay Compliant in China

Cost savings for your market entry into China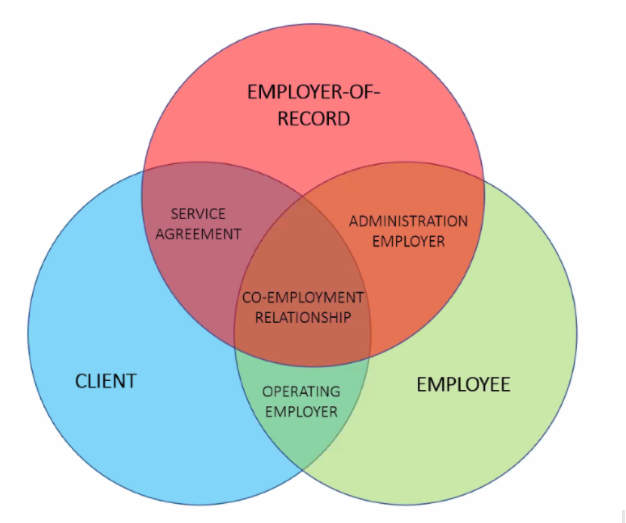 Helping your new employee(s) settle in
Always remember that the hiring process doesn't end on your new employee's first day. Nor is it 'mission accomplished' after the successful completion of any probation period.

Settling into a new company takes time, especially for a new expatriate residing in China for the first time or a local Chinese employee that has never worked for a foreign investors before.

It's not surprising that some employment experts believe it can take over a year for a new employee to be fully productive.

Of course, you'll want your new starter to be performing a lot sooner that that. And, in most cases, they will be. But that is only possible if you have committed to giving them all the training, guidance and support they need in those all-important early stages.

Because once you have overcome one of the biggest challenges – hiring new staff – you move straight on to another one: keeping them.

To keep them it is recommended for senior employees to be trained in the head office to gain a sense of country, culture, philosophy and mission as well as meeting with colleagues that they will be working with daily albeit from a distance.
Conclusion
Set very clear and realistic goals where you need to be in 3-5 years and act on them.

Strong goals will help to focus energy in your team and keep your fluctuation low.

Have a very clear strategy and have the discipline to implement it

Understand that somebody needs to ''build the bridge'' – and that it often takes a lot of effort to establish a bridge between your HQ and the Chinese team.

Make one person in HQ the main responsible for making the Chinese market work – either at the beginning or also when you have to ''re-boot'' and give him the support he needs

If you start, ensure that you are committed. From what I have seen fishing (i.e. non committed trying around) doesn't work very well on the Chinese market.

If your organization in China (the single largest market on our planet) isn't producing results, you should really act

NOW

.
''No matter how great the talents or efforts, some things just take time. You can't produce a baby in one month by getting nine women pregnant.'' – Warren Buffet
For any information on how to recruit and employ your first hires in China, please contact our team by email at  info@opkofinance.com or by phone at +852 2654 8800/+86 187 177 31958