Indonesia Business Incorporation and Bank Account Opening
(A Simple Guide to Business Investment in the Indonesian Market)
Why Indonesia?
Fourth most populous country in the world. Average GDP about 5% before the pandemic.

Good political and economic stability with the fastest growing economies in Asia.

Popular market to invest in South-East Asia with various sectors available to foreigners

Good economic response against Covid Crisis (-2, 1% in 2020 by IMF)

Incorporation of a Company in Indonesia


Many investors believe that Company Incorporation in Indonesia might take a lot of investment from a well-known fact that a foreign company established in Indonesia is required to have Authorized Capital of IDR 10 billion. The process of establishment does not require the exact capital to be directly invested/transferred to the company financial bank account. Process is allowed to be performed in parallel with the operational business activities.

Common Misconception

Allowed Nominee Agreement

Usually, to avoid investing such big amount of capital, many search for local nominees to be the shareholders of company, BUT nominee agreement is not acknowledged by the governed law and shall not be a solution to any issues regarding the investment process.

L Local Shareholder is a must

A local shareholder is required for starting a company. In reality, many business lines are open to full foreign ownership. The newly regulated Omnibus Law is expected to ease up the process of foreign ownership in Indonesia.

Comparison of Companies

Local Companies

Several Classification of Capital: with lower initial Capital Requirements

Allowed to only have local citizen/local company as Shareholders. However, may hire foreign Director and/or Workers.

Incorporation starts at the base of IDR 50 million as Authorized Capital.

It is not a subject to restrictions upon Investment in Indonesia; as for some foreign invested companies.

Foreign-Owned Companies

Minimum Authorized Capital: IDR 10 billion

Opportunity to work with governmental agencies

Has Investment Plan of IDR 10 billion per business classifications. Most sectors are open for fully owned Foreign Investment

Allowed to hire Foreign Directors and/or Workers at the minimum size of Capital Requirementsl

Simplified business licensing. A solution to established company willing to branch out in the South East Asia market

Requirements of Company Incorporation

One Director and one Commissioner of the Company

Minimum Authorized Capital & Paid-Up Capital for minimum 2 Shareholders

Determination of Business Classification: 5 digits of Business Classification

Investment Plan to each business classification. Investment Plan Capita

Acquire registered address of the company

Provide all ID as requirements to process the establishmentt

Other Business Entities

KPPA

or Kantor Perwakilan Perusahaan Asing also know as

Representative Office or Trade Representative Office

May be one of the options to choose before establishing your own company in Indonesia..

Representative Office serves its name as the representative of your own established mother company overseas. Its main role is to perform market research and act as agent of the mother company in Indonesia. The steps and requirements simpler than those of the company establishment.

Note:

Representative or Trade Representative Office is restricted to generate income under its own name in Indonesia; but only to provide assistance to the mother company

BUJKA

or Badan Usaha Jasa Konstruksi Asing also known as

Foreign Construction Business Entity

Is the option for foreign construction company to start its project in Indonesia. This form is similar to foreign representative office with the limited actions and requirement to partner with the governmental agencies and local construction company.

Note:

Both Business Entities may, peuvent,

– have the option to create/establish a Foreign-Owned Company by

 disbanding the previous form of Representative Office;

– hire foreign workers/representative in Indonesia with

  no capital requirements needed.

Procedures of Company Incorporation
How to Register a Company in Indonesia

Choose your business structure

Decide which business structure is suitable for you. Then put in place company services such as corporate Company Secretary, human resources, Working days/hours, Ongoing fillings and bookkeeping

Choose a unique company name

You are required to provide 3 options for your company name in English, Indonesian or both. The 3 options will save you the Trouble of having to rethink if one of the options has already Been used. Register the company name at the Ministry of Law and Human Rights.

Have a registered officel

As soon as you are confirmed with your business formation, kindly ensure that you have a registered office and a Mailing address.

Register for a business license

The process of getting a business license varies with each business type. You are required to apply for a certificate of business registration and company registration documents from the offices of the Ministry of Trade

Bank Account Opening in Indonesia

Complete and appropriately signed application form.

Provide all supporting documents to be given upon application.

Required documents 

Articles of Association of the Company

Establishment Deed & Approval from Ministry of Law and Human Rights

Copy of Tax ID number of the Company

Copy of Business Id Number and Business License (which have been obtained through OSS

Copy of ID: Board of Directors, Shareholders & Authorized Signers

The process of opening a corporate bank account in Indonesia vary slightly from bank to bank. In nearly all banks, you can start opening a bank account after PT PMA registration is complete.
Tax Compliance
Several of recognized taxes in Indonesia are:
Corporate Income Tax

Withholding Tax and Personal Income Tax Rate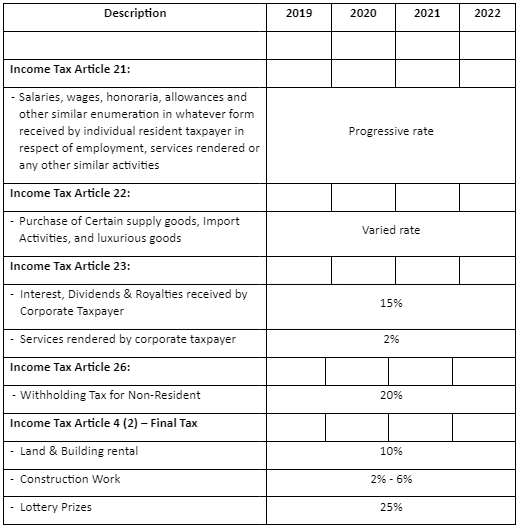 For any information on how to incorporate your company in Indonesia, please contact our team by email at info@opkofinance.com or by phone at +852 2654 8800.