Common Risk and Issues for Joint Venture – case study
We noticed that most of the problems in a JV in China arose from two main cases:
The alleged transfer of profits from the JV to one of Chinese partner's companies,

Fraudulent use of legal stamps and seals of the company.
Yet, several warning signs have appeared:
The development of a new market, contract or customer whose profit margin turned out to be significantly lower than the usual margin of the JV,

the transaction flows that are unusual for the JV, either in terms of invoicing, payment, delivery via third-party companies for example,

Use of the name or brand of the Chinese JV partner.
It turned out that a margin transfer had been orchestrated for the benefit of one of the partners of the JV on the occasion of this new business and through a parallel flows of intermediaries.  .
Another case has arisen with the fraudulent use of the JV's legal stamps and seals by one of the partners. It was made possible due to travel restrictions preventing one of the partners from returning to China. The latter was unable to jointly access and control the seals. The lack of precise internal rules and controls enables this fraud.
Common Risks and Issues for Joint Venture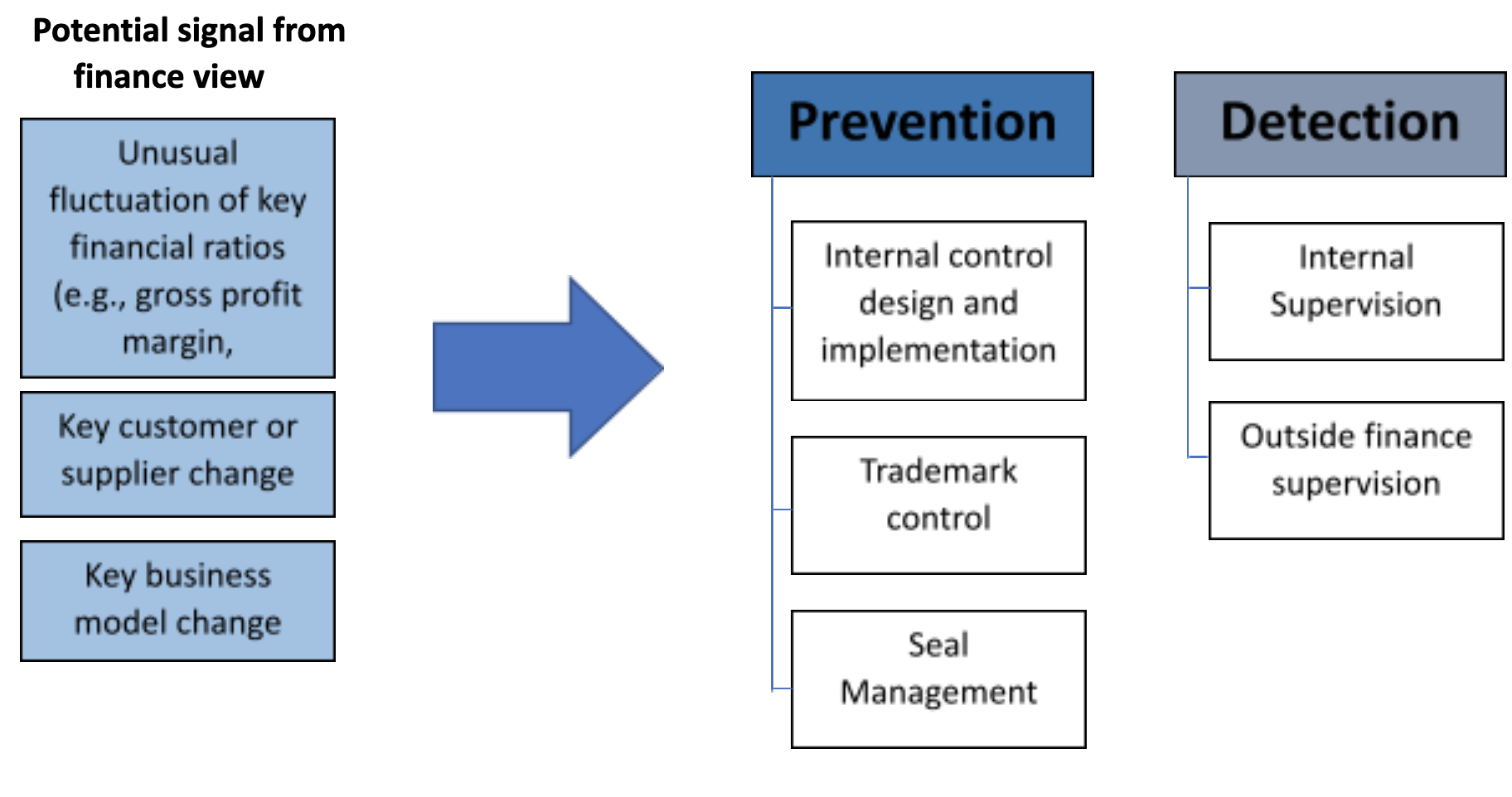 How to Control Risks in Your China JV
Background Check
Basic corporate registration information;

Corporate history and any amendments to the official registration records;

Shareholders information;

Management team structure and main leaders;

Bank relationships;

Business affiliates;

Lawsuits records and public filings; and

Financial statements.
PRC Company Law
The voting rights exercisable by shareholders at a shareholders' meeting shall be based on the ratio of capital contribution, unless otherwise provided in the articles of association of the company.
Art. 34 – Dividend Rights
Shareholders shall be entitled to dividend sharing in accordance with the ratio of capital contribution, unless all the shareholders agreed that the dividend sharing shall not be in accordance with the ratio of capital contribution.
Resolutions passed by a shareholders' meeting on amendment to the articles of association of the company, increase or reduction of registered capital, and company merger, division, dissolution or change of company structure shall be passed by shareholders holding two-thirds or more of the voting rights,
66.7% shareholding has an Absolute Control over the company
51% shareholding has a Relative Control over the company
Choose Reliable Personnel for Management
Key positions
Legal Representative

Chairman of the BOD or Executive Director

General Manager

Supervisor

Procurement Manager

Sales Manager
Authorization
Execution of Shareholders' resolution

Decision on the business plan and investment scheme

Decision on the profit distribution plan and loss recovery plan

Decision on appointment and dismissal of senior executive
Qualification and Obligation
Fiduciary duty

Shall not abuse duties and rights to receive bribes or other illegal income

Shall not convert company assets, etc.
Safe Custody of Seals and Certificates
Assign a third party to safekeep all the seals and certificates;

Design internal approval procedures
IP rights and Trade Secrets Protection
Pay attention to the method of contribution;

License agreement;

Confidentiality agreement;

Non-use, non-disclosure and non-circumvention agreement (NNN agreement)

Non-competition clause/agreement
Exit Mechanism
Equity Transfer
The Shareholder may transfer all or part of their equity interest among themselves;

A shareholder proposing to transfer its equity shall obtain the consent of more than half of the other shareholders;

Other shareholders shall have pre-emptive right to acquire such equity interests on similar terms
Termination and Liquidation
Specific circumstances for termination and liquidation – general dissolution;

Mandatory dissolution of JV – Art. 182
Better Prepare all the Legal Documents
Shareholder Agreement

Articles of Association

Equity Transfer Agreement

Intercompany Service Agreement

License Agreement

NDA Agreement and NNN Agreement

Non-competition Agreement

Power of Attorney for senior executive

Usage Guidance of Various Company Seals
Relevant Legal Requirements under PRC Foreign Investment Law
Applicable LawComparisons: Corporate Governance
Taking the example of the limited liability company to show the key differences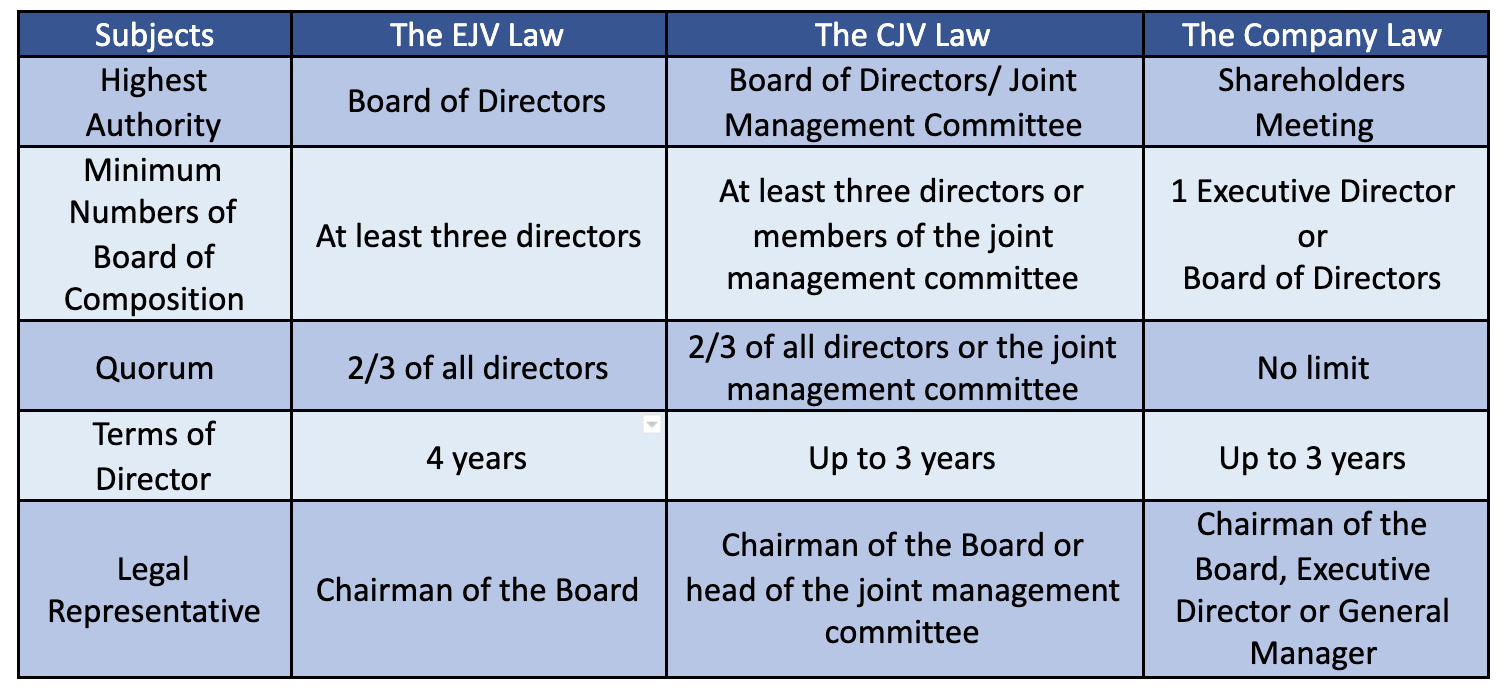 For any information on how to control risks in your china JV, please contact our team by email at info@opkofinance.com or by phone at +852 2654 8800/+86 187 177 31958